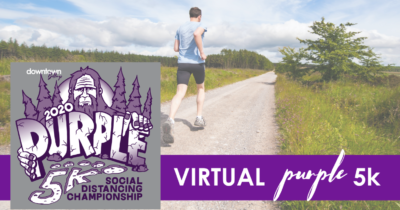 The Purple 5k has gone virtual this year. The virtual event is scheduled for September 26, 2020. The Purple 5k is an annual fundraiser event for downtown's Spare Change for Real Change nonprofit. Over the last 10 years, funds from this event have been used to aid the MAAP (Motivated Addiction Alternative Program) — a collaborative program intended to move people from addiction and cyclical negative behavior through a continuum of assistance and treatment, designed to give people the hope and motivation needed for recovery and transformation.
Kody Christensen-Linton, Downtown's Outreach Coordinator says "We knew it would have to be different this year but we are looking at the silver linings, by making this run virtual anyone, at any pace, anywhere, indoors our outdoors get to participate in this event. We've brought some of the favorite pieces along with it; there will be swag bags for all participants to pick-up that include the community's favorite super soft race t-shirt, logo sticker for your favorite canteen, and other fun swag from downtown businesses."
The Spring Downtown Purple 5k race, scheduled for May 3, 2020 was one of the many 2020 spring/summer events postponed, due to COVID-19's public health risks. Much like the rest of the events in 2020 the reschedule date has felt elusive, almost as elusive as the ultimate social distance champion himself, Bigfoot! Which is why the Downtown Billings Alliance (DBA) went with the 'Social Distancing Championship' theme for the race and have had a person dressed in a purple Bigfoot costume spotted walking around the streets of downtown Billings.
Over the last 10 years, this event has grown such that, as of this year, the Spare Change for Real Change program has raised over $130,000 that has been put towards work to alleviate homelessness through education, housing, social services, treatment/rehabilitation, and re-integration.
To sign up for the Virtual Purple 5k visit https://downtownbillings.com/event/virtual-purple-5k/
Participants registered prior to Thursday, September 17 will be guaranteed a super soft Purple5k T-shirt in their swag bag. Race swag bag pick-up takes place on Thursday, September 24, 2020 or Friday, September 25, 2020 from 9am-4pm at the DBA Office (116 N 29th St., Ste A).
On the day of the event, the DBA encourages participants to take lots of pictures and post to social media platforms with the hashtag #purple5k in order to keep the connection with other participants while remaining socially distant and safe.