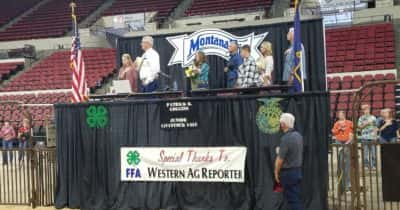 Hat's off to those businesses who continue to support local 4-H and FFA Youth during these strange pandemic times.
Even though many Junior Livestock Sales are using virtual auctions, and incorporating Internet Bidding, the prices that the kids have been receiving at many local Fairs have been very impressive.
On Saturday, Montana Fair in Billings had a record-setting Junior Livestock Sale!
192 animals sold, (which was 1 more animal than last year)
But the average price per head was UP 7.8%…setting a new RECORD of $2,669. per animal!
The 75 Hogs brought a RECORD average of 5.97 per pound!
The 12 Goats brought a RECORD average of $12.36 per pound!
Steers and Lambs did not set a record…but were very strong.   64 Steers average 3.83 per pound….and 27 lambs averaged 8.21 per pound.
Many thanks to those businesses and individuals who continue to support local youth by digging deep and buying Market Animals at their local fairs!