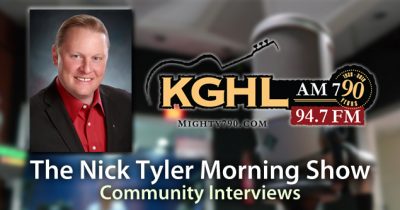 The Story Behind "Ask in Earnest"
My dad, Dick Tyler, was born during the Depression in 1934. My grandparents didn't have enough money to go to the hospital, so my grandmother, with the help of a midwife, gave birth to him on the family farm.
I believe my dad was born to be a farmer. He spent his entire life working the land, caring for the animals, providing for his family, and providing food for countless people over the course of his lifetime. Like all other farmers, he experienced numerous challenges—drought, crop disease, insect infestations, hailstorms, unpredictable markets, blizzards, breakdowns during harvest, and the long days with the hot prairie winds blowing on his neck. Yet it always seemed "right" that he was a farmer; I could never picture him doing anything else.
Read more at the link below:
Never miss an interview! Hear them LIVE with Nick Tyler at 7:20 am weekdays on The Mighty 790AM and 94.7FM KGHL… On the KGHL Mobile App and on your Smart Device (Google or Alexa)!