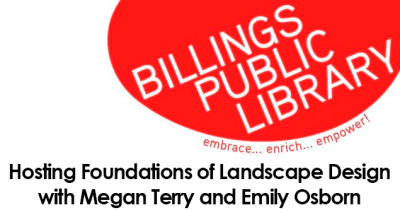 Billings Public Library will host Megan Terry and Emily Osborn from Land Design, Inc. on Wednesday, February 12th to give a presentation on landscape design.  The program will be held in the Royal Johnson Community Room at 5:00 pm.
Megan and Emily will be on hand to talk about the steps of landscape design and how they can be applied at any scale – from small containers to multiple acres. Site analysis, design and maintenance considerations, and plant selection guidance will be discussed. Whether you are beautifying your own home or simply trying to remedy a difficult planting bed, this presentation will offer you an outline for creative problem solving for all skill levels.
Megan Terry is a licensed Landscape Architect at Land Design, Inc. Her experience ranges from master plan development to commercial landscape design. Megan is an active gardener and is on the advisory board for Songbird Community Garden, helping to teach gardeners of all levels water and soil conservation techniques.
Emily Osborn is a Landscape Designer at Land Design, Inc. with years of practical experience throughout the northwest.  She is a member of the American Society of Landscape Architects – Idaho/Montana Chapter.
For additional information, please contact the Library at refdesk@ci.billings.mt.us , or librarian Jennifer Kruger at 657-8290.