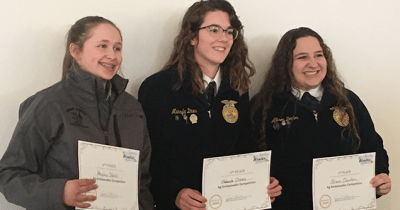 The staff and friends of KGHL Radio congratulate the winners of the 2020 Ag Ambassador Competition! For the first year of this competition, they had a great turnout… making for a hard decision!
1st Place Winner, Receiving $1,000 award – Allison Denton of Lewistown (furthest right in photo)
2nd Place Winner, Receiving $500 award – Hayley Stahl of Winnett (furthest left in photo)
3rd Place Winner, Receiving $250 award – Makayla Dines of Geraldine (middle in photo)
4th Place – Claire Standley of Missoula
5th Place – Jaden Cox of Gardiner
6th Place – Nickia Harris of Deer Lodge
All of the contestants put together a newspaper article, a radio spot, social media posts, a prepared speech, and a visual display illustrating the economic impact of agriculture in their communities. Topics ranged from the economics of ag in the counties surrounding the American Prairie Reserve, to the economic aid provided the Western MT Stockgrower's Association, to the way agriculture is the heart of communities like Winnett. Overall, all our judges were very impressed, and we heard a great deal of positive feedback from students who said they plan to compete again next year, and from teachers who said they plan to bring students next year.