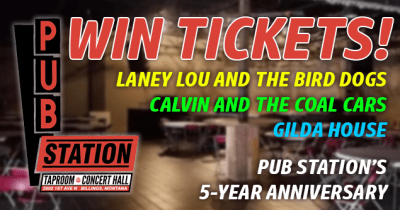 Wow! 5 YEARS already? The Pub Station Taproom and Concert Hall is taking time to celebrate with YOU their Anniversary!
3 GREAT BANDS – 1 FUN NIGHT
Laney Lou and the Bird Dogs
Laney Lou and the Bird Dogs are an energetic Americana-Folk band that infuses four-part harmonies, engaging songwriting, and rock-n-roll drive into a modern approach to traditional folk music. The Bird Dogs have been taking their infectious sound on the road since 2013, sharing stages with the likes of The Travelin McCoury's, The Nitty Gritty Dirt Band, The Jeff Austin Band, Amy Helm, Leftover Salmon, The Infamous Stringdusters, Billy Strings, Blitzen Trapper and many more. The Bird Dogs released a live self-titled studio album in 2016, recorded at Basecamp Studio in Bozeman. Their follow-up album, titled The Vigilante Session, was recorded live at a forest service cabin in the Ruby mountains. In February 2019 Laney Lou and the Bird Dogs recorded their first full-length studio album, Sweet Little Lies, at Prairie Sun Records in Cotati CA. They worked with producer and engineer Brad Dollar to release the album on May 3rd, 2019. Laney Lou and the Bird Dogs consist of Lena (Laney) Schiffer on vocals/guitar/percussion, Matt Demarais on vocals/banjo/dobro, Ethan Demarais on bass, Brian Kassay on fiddle/mandolin/harmonica, and Josh Moore on vocals/guitar.
Calvin and the Coal Cars
A stylistically traditional Country Band from day one, the members of Calvin and the Coal Cars have been singing, performing, and playing in sync as if they'd been together their entire musical careers. Throughout the course of the band's union, they have won over the hearts of music lovers from all walks of life; performing at a variety of venues, making loads of public appearances, all the while recording new music. Learn more by exploring the site, and feel free to get in touch with any of your comments and questions.
Gilda House
Gilda House shares her passion for the nostalgia, dancing her butt off, and celebrating the human condition through creating alternative synth-pop music. Her songs feature dreamy synths, layered harmonies, dance grooves, and both intimate and powerful vocals.
How to enter to win:
Either comment BELOW your favorite song on KGHL or comment your favorite song on our Facebook post about this Ticket Giveaway.. and you're entered to win!
When will the winner be announced?
Monday, November 25th at 4:40 PM during KGHL's Drive For Five Program, and will be announced shortly afterward on Facebook
Terms: You agree, upon receipt of said complimentary tickets, prizes, etc., to release, indemnify and forever discharge KGHL Radio, LLC. Billings, Montana, it's owners, subsidiaries, employees, agents and affiliated companies ("Releases") from any suits, claims, or liabilities which the undersigned might have for any loss or injury in any way arising out of the use of said complimentary tickets, prizes, etc. including but not limited to the amount of any judgements, legal fees, expenses, and cost of defense.
You are eligible to win ONCE from any/all of our stations in a 30 day period.
Have any questions? Call 406-252-6661.