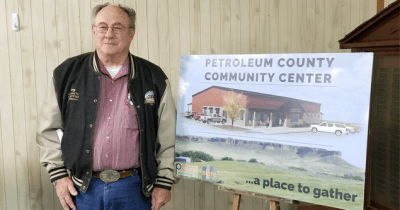 Wednesday night October 16 in Winnett there was a community meeting of the group that is has been working for two years to raise money to build a new Petroleum County Community Center in Winnett.   Dozens of Petroleum County citizens were there, and Scott Cromwell and Kelly Axtman from Slate architecture in Helena, with some renditions of what the new Center could look like someday.
It is a daunting task, for a County that only has 400 residents to raise millions of dollars to build a 10 to 12,000 square foot Community Center.
But then Sue McKenna, co-chair of the Fund-raising committee started the meeting with an extraordinary announcement that caused people to gasp, when she read a letter of Commitment for a donation of $5 million dollars from Larry and Kathy Carrell of Lewistown.  Part one is a pledge of $4.5 million with absolutely no conditions, and the second part is a dollar-for-dollar match of all contributions, up to an aggregate of $500,000.
Larry Carrell graduated from Winnett in 1958, and he grandparents homesteaded in the Dovetail Area near Cat Creek, north east of Winnett.
This past summer at the Winnett High School All-Class Re-Union, Larry came back and heard about this effort to build a Community Center in his old home-town.  He decided he would like to help build the community spirit, and support their hometown values.
From a kid that grew up in Petroleum County….working with his dad and brother in the Cat Creek Oil Field with Petroleum Engineers….that later left Petroleum County to pursue a long and successful career in the Petroleum Industry…Larry Carrell is now giving back to the local community that gave so much to him.
And Winnett is finally going to have a beautiful Petroleum County Community Center!