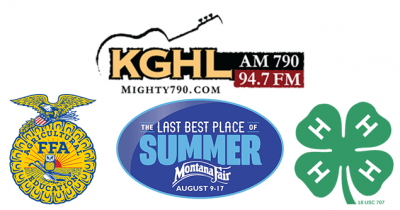 Wow, what a blast! This was the BIGGEST Jr. Livestock Sale remote in the history of KGHL, including our friends at the Northern Ag Network and Northern Broadcasting System!
Thanks to our fine sponsors of this event!
Agri-Best
Blue Body and Paint
Big Sky Irrigation
Billings Farmhand
Billings Hotel & Convention Center
Billings Kubota
Billings Towing & Repair
C&B Operations
City Service / Valsom
Cross Petroleum
Crosswire Inc
Fly In Lube
Hitt's the Spot Café
Lewistown Insurance
LP Anderson
Montana Equine
Nutra-Lix
Shipton's Big R
T-13
The Northern Hotel
Valley Farmers Supply
Yellowstone Valley Electric Co-op
Check out the photos below.
Patrick K. Goggins Jr. Livestock Sale Remote 2019