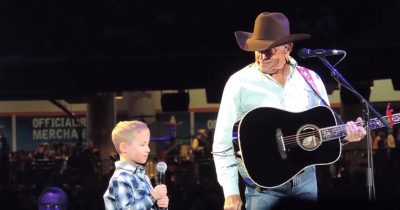 George Strait's new and upcoming album, Honky Tonk Time Machine,  has a special guest star on it… Harvey Strait, his grandson.
The seven-year-old seemed completely unfazed by the thousands of fans recently while joining his grandpa on stage. Standing like a statue until his time came… Harvey and Grandpa George sang their duet, without a cue from his grandpa.
Check out this legendary moment from the King of Country himself, and his grandson Harvey, below.