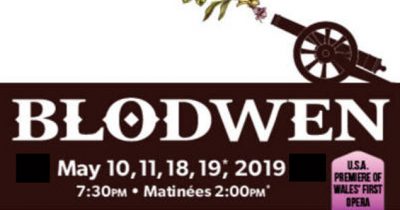 Operations Manager Jonathan Kibblewhite had the opportunity to interview fellow Welshman, Dulais Rhys, on KGHL.
Coming soon to Billings is the FIRST EVER Chamber Version of Welsh Opera being performed outside Wales.
Below you'll find both the "Edited For Air" version, followed by the extended cut. While you listen, take a look at the details of this upcoming Opera and the BBC interview too.
Blodwen
May 10, 11, 18, & 19, 2019 in the Roebling Theater
General Opera
This production is in the public domain
Composed by Dr. Joseph Parry and Richard Davies
Following the pattern of romantic-italian opera, this story takes place in 14th century Wales and includes a wedding, lovers, dying heroes, and a dramatic final twist. The opera's stirring music shows Parry at his dramatic best: heroic and romantic solos, exciting ensembles, powerful choruses and of course, the famous 'Hywel a Blodwen' love duet which remains popular as a concert item and is considered one of the highlights of amateur performances of the opera.
https://www.bbc.co.uk/cymrufyw/46832608
(Link is in Welsh. English translation is below)
Translation – • January 13, 2019
For the first time in history, a chamber version of Welsh Opera will be performed outside Wales in May this year.
The opera Blodwen by Joseph Parry, composed in 1877, will be performed in Billings, Montana in the United States.
Although a selection of the opera was performed in America over a century ago, this is the first time that this chamber version has been performed outside Wales.
A Welshman who now lives in Montana since 2018, Dulais Rhys, is the Opera Orchestra Conductor. "Since I moved to America I've been in contact with several opera companies asking if they are interested in staging and producing a Welsh opera. We did not have many positive reactions in America, but Rimrock Opera Foundation from Montana came back to say they wanted to produce Blodwen. The next step for me was to move from San Francisco where I have lived since 2011, to Montana."
Four performances from Blodwen will be at the NOVA Center, Montana in early May.
There are six main roles in the opera and two of the main singers can speak Welsh.
Jeremy Huw Williams from Cardiff will play the role of Arthur and Nerys Jones, who is now living in Seattle, will play the role of Lady Maelor.
These performances will complement the performers of the chorus who have learned Welsh songs.
Blodwen follows an Italian romantic opera pattern. The story is set in Wales during the 14th century and includes marriage, lovers, dead heroes and happiness at the end.
Dr. Rhys added: "The linguistic exercises have been a great deal of fun teaching the chorus and other leads Welsh. Supratulations [supertitles] will appear during the performance to help the audience with the words. I'm very pleased that the company's President, Lucinda Butler, has chosen to produce this opera. She has links with Wales after her daughter studied at Swansea University."
There will be four performances of Blodwen at the NOVA Center, Montana, between 10 and 19 May this year.