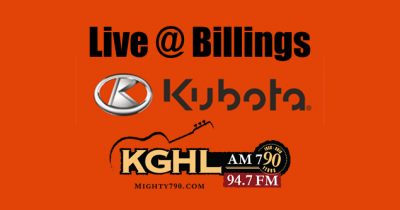 Update:
Thanks to everyone for stopping out to Billings Kubota! We had a wonderful time, and we've got photos to share. Check them out below, and see you at our next remote!







Stop out to Billings Kubota and help The Mighty 790 and Northern Broadcasting celebrate National Ag Day today! We'll be live from 10 am to 12 noon.
We'll have interviews with these fine companies:
Ron Preuit – Nutra Lix
Nikki Dolan – Hitt's The Spot Cafe
Bruce Rush – Billings Kubota
Brian Cooley – Stockman Bank
Ken Kephart – Superintendent @ Southern Ag Research Center in Huntley
Holly Dorvall – Dorvall Club Lambs in Fromberg
Kellie Kittelmann – Past President of Montana Agri Women
Jess Peterson – Local Rancher & Member of US Cattlemen's Org.
Gay Kepple – Huntley Project Museum
Jim Stampfel – Purebred Livestock Producer
Jack Howley – Quality Liquid Feeds
Chaley Harney – Montana Beef Council
Joe Lockwood – Yellowstone County Weed District
Thanks to our Sponsors for this event:
Nutra-Lix
Hitt's The Spot Cafe
Boothill Inn & Suites
Big Sky Irrigation
Billings Kubota
Western Sugar
Quality Liquid Feeds
Stockman Bank