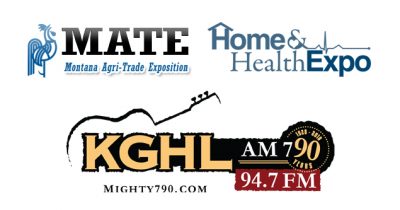 Join KGHL LIVE on Opening Day & Valentines Day at the 2019 MATE Show at Metra Park! Here's the schedule of events for Thursday @ MATE:
From the MATE "Theater"
11 am to 1:50 pm Agronomy Topics

Presented by TJ Knecht, Agri-Coach, 406 Agronomy
TBD

1 pm to 1:50 pm Prairie Dog Management

Presented by Stephen Vantassel, Vertebrate Pest Specialist, Montana Department of Agriculture

Montana Department of Agriculture's Vertebrate Pest Specialist, Stephen M. Vantassel, will review methods for controlling prairie dogs to help producers make cost-effective decisions. His presentation will review basic life history and cover the pros and cons of control techniques available, including mechanical control (trapping, shooting), chemical controls (fumigants and baits), unregulated methods (carbon-monoxide and propane-oxygen exploders) and biological controls.

2 pm to 2:50 pm Dicamba and Paraquat Use Update

Presented by Lyle Scott, Plant Science Specialist, Montana Department of Agriculture

Lyle Scott will discuss past uses of Dicamba, the recent problems that arose from misuse, the corrections being applied, and the future requirements of Dicamba users. He will also discuss Paraquat, its history, uses, problems, benefits, resurgence, and new training requirements and how to comply.

3 pm to 3:50 pm Water Quality and Soil Activity for Pesticides

Presented by Mat Walter, Extension Agent, MSU Extension – Musselshell/Golden Valley Counties

MSU Extension Agent, Mat Walter, will take an in-depth look at how soil structure and water quality impact the efficacy of herbicides on farm ground and rangeland and how applicators might improve the chances of herbicides reaching their target plants.

Plus enter to win Grand Prizes to be given away during MATE!
KGHL will be LIVE on the air from the MATE Show Floor Thursday from 12 Noon to 2 PM. Stop by and visit with the staff of KGHL and Northern Broadcasting during your visit to the 2019 MATE Show!
If you do not have a ticket, you can download your FREE TICKET below! Just print it out, and present to the MATE Show Entrance.