Writing over half the songs on his new album, George Strait has announced Honky Tonk Time Machine. The album has 8 of 13 songs with his name as writer, including one with fellow country music legend Willie Nelson "Sing One With Willie".
The tracklist highlights country themes on songs like "Every Little Honky Tonk Bar" and just-released "God and Country Music", which features an appearance by George's 6 year old grandson Harvey.
This is Strait's first album since 2015's Cold Beer Conversation. Fans can grab their copy on March 29th, and can checkout the complete tracklist below!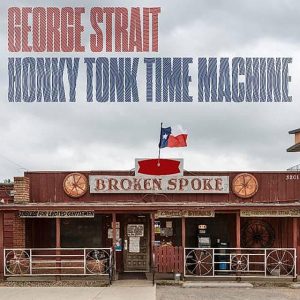 1. "Every Little Honky Tonk Bar" (Written by George Strait, Bubba Strait and Dean Dillon)
2. "Two More Wishes" (Written by Jim Lauderdale and Odie Blackmon)
3. "Some Nights" (Written by Bubba Strait, Brice Long and Phillip White)
4. "God and Country Music" (with Harvey Strait) (Written by Luke Laird, Barry Dean and Lori McKenna)
5. "Blue Water" (Written by George Strait, Bubba Strait and Dean Dillon)
6. "Sometimes Love" (Written by George Strait, Bubba Strait and Dean Dillon)
7. "Código" (Written by George Strait, Bubba Strait and Dean Dillon)
8. "Old Violin" (Written by Johnny Paycheck)
9. "Take Me Away" (Written by George Strait, Bubba Strait and Dean Dillon)
10. "The Weight of the Badge" (Written by George Strait, Bubba Strait and Dean Dillon)
11. "Honky Tonk Time Machine" (Written by Bubba Strait, Brice Long and Bart Butler)
12. "What Goes Up" (Written by George Strait, Bubba Strait and Jeff Hyde)
13. "Sing One with Willie" (featuring Willie Nelson) (Written by George Strait, Willie Nelson, Bubba Strait and Buddy Cannon)