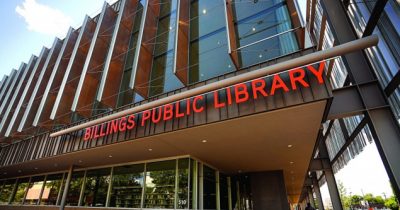 How time flies when you're having fun, and Billings Public Library has been doing just that these past 5 years!
We caught up with Library Director Gavin Woltjer this past week, and he provided the run-down for all the Anniversary festivities and events. Check them out below, and the construction gallery on Billings Public Library.
Monday, January 28th – How to Build a Library, 5 Year Celebration Panel Discussion – 7PM
Join the Billings Public Library Board of Trustees to launch the week celebrating the library building's 5th birthday. Take a step back in time to find out how the building came to be with a panel discussion moderated by Board Chair Roger Young. Hear the stories of the rewards and the challenges shared by retired Library Director Bill Cochran, retired Board Chair Shari Nault, Building Committee Chairs Frank Cross and Lloyd Mickelson, and Board Member Bill Lamdin. Then for the future? Library Director Gavin Woltjer will share his visions.
Tuesday, January 29th –
10 Years of Books and Babies – 4PM – Community Room
We are inviting all current and past "babies" and their parents/caregivers to celebrate with us.
Learn about the importance of early literacy!
Genealogy Class: City Directories, Phonebooks and Newspapers – Noon to 1 PM
The Yellowstone Genealogy Forum will teach a class on how to use city directories, phone books and newspapers in genealogy research. Learn what kind of information can be extracted and how to use these resources together. This is part of the Billings Public Library 5-year anniversary celebration!
Wednesday, January 30th – Kevin Kooistra: A Brief History of Billings Public Library – 6 to 7 PM
Join us in welcoming Kevin Kooistra, Executive Director of the Western Heritage Center, for a look at the Library's 117-year history, which began in 1901 as a donation by the Billings family in memory of their son Parmly. We'll look at how the Library shaped our city, and was shaped by Billings in return.
Thursday, January 31st – Yellowstone Genealogy Forum Presents Tim Lehman – 7 to 8:30 PM
Tim Lehman, history professor at Rocky Mountain College, will be the guest speaker for a program about how our ancestors came to Montana via rivers, trails and railroads. Enjoy this informative presentation sponsored by the Yellowstone Genealogy Forum. This event is part of the Billings Public Library 5-year anniversary celebration.
Saturday, February 2nd –
The Billings Public Library Foundation is hosting an informal scavenger hunt throughout the BPL highlighting the different aspects of the architecture of the building. The Friends of the Library will also be hosting a special Pop-Up Book Sale in the book nook area.