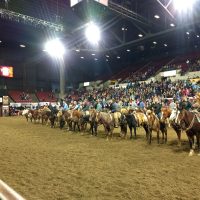 Jason Phipps had several fans at NILE Ranch Rodeo  He also was recognized by the judges as the Top Hand. Jason rode for the Sand Springs Cattle Co. Team and took home a custom saddle from Connolly's Saddlery.
The eleventh annual Farstad Oil Ranch Rodeo Finals at kicked off the official start of the NILE Stock Show & Rodeo.
The team from Lusk, Wyoming won it again. Bootheel 7 Livestock took home the championship title for the second year in a row. Andrew Wasserburger, Eric Wasserburger, Lance Hladky, and Lane hageman consistently scored high in each of the events.
Lance Hladky rode for 76 points that earned them third place in the Ranch Bronc Riding. They loaded their three cows the fastest in the Team Trailering earning them first place in that event. In their strongest event, Bootheel 7, won the Team Branding with a time of 37.5 seconds–a ten second margin on all the other teams. They came up second in Team Doctoring, just barely winning first. Luckily, they had a good lead going into Wild Cow Milking because they placed eighth. Overall the team had 40 points to take home the trophy.