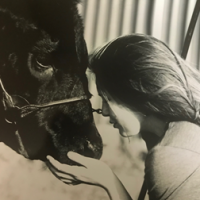 You see a lot of heartwarming things at a Jr. Livestock Sale, but what happened in our community a few days ago was still pretty touching.
At the MontanaFair Junior Livestock Sale, when Loran Murphy of the Worden Riverdales 4-H Club led her steer "Cubby" into the Sale Ring, there was an unusual announcement from auctioneer Joe Goggins:   Ten Percent of the steer's sale price would be donated to the Memorial Scholarship Fund that had been set up in memory of Loran's former Basketball Coach, Kurt Kautz.
You see, Loran had started on the basketball team for two years in her Freshman and Sophomore year for Coach Kautz at Huntley Project School in Worden, where her dad Bill Murphy teaches history, and her mom Tammy teaches First Grade.  Last October when Kurt Kautz was suddenly taken in a tragic roll-over automobile accident, the Kautz Family set up the Scholarship in his name, because Kurt was more than a Coach and a neighbor; he was a role model and a mentor to his players, and to the Huntley Project community.  The first $1000 Kurt "Cubby" Kautz Scholarship was presented this spring to Huntley Project senior, Madison Rohrer.
Loran and her teammates bravely struggled on with the season.  But for her, it was a season that ended in having ACL surgery on both knees.  As she fought through rehab, she named her 4-H steer "Cubby" (Coach Kautz's life-long nickname)…and she hatched an idea.
Before the fair Loran spread the word that on sale day, 10% of the sale proceeds from Cubby the steer, would go to the memorial fund for her friend, Kurt "Cubby" Kautz.  The story touched many hearts.  Like that of State Farm Agent Kari Jones in Billings Heights, who pledged $1000 to the fund, and asked the State Farm company to make a matching corporate gift.
On Sale Day, Saturday, August 18th at MontanaFair, there were a lot of teary eyes watching as Cubby the steer, brought an amazing $18.00 a pound! For a 1,375 pound steer, that adds up to a total price of $24,750 dollars!  In the end, the steer was purchased by a consortium of friends and family members who came together to remember Kurt Kautz.
The memory of Kurt Kautz's generous heart has encouraged others to contribute.  Sandy McCaffree has now announced that the upcoming "Bowties & Boots Fundraiser" for Blankets & Bears will donate a portion of their proceeds to the Kautz Memorial Scholarship fund.  Held on Saturday, September 15th at Chancey's Event Center and hosted by Chancey's Event Center and High Horse Saloon, "Bowties and Boots" will feature a steak dinner, silent and live auction and entertainment throughout the evening. The money raised will purchase the pillows for 800 children in December, fleece and flannel for blankets and cases, and help fund the Kurt "Cubby" Kautz Memorial Scholarship.  To purchase tickets or sponsor a table, go to:  http://www.blanketsandbears4kids.com
Additional donations to the Kurt "Cubby" Kautz Memorial Scholarship Fund may be sent to the Kautz Family at 555 West E. Road, Huntley, MT  59037.