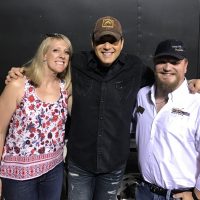 What a Trip!
With 45 KGHL fans on board, KGHL's Fun Bus traveled to the Rosebud County Fair on Saturday, July 21st where country music star Rodney Atkins was the headlining performer.
Atkins has had six Number 1's including "Watchin' You", "These are my people," and "Cleanin' this Gun." He also won top new male vocalist in 2006.
Atkins wowed the crowd with his energy and even handed the microphone to audience members to sing-a-long!
After the show, KGHL's own afternoon host Dave Austin and traffic manager Bernadete Jensen got to meet Rodney beside his tour bus. Dave picked up another autographed photo for KGHL studio's wall of fame.