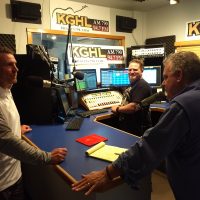 Bobcat Club Road Trip makes a stop at KGHL!
MSU Athletic Director Leon Costello and Bobcat head coaches Jeff Choate and Brian Fish had the opportunity to catch up with Bobcat supporters located in each region of the state they visited, and talked about their respective teams' previous seasons and their outlooks going into the 2018-19 campaigns.
Costello noted the Montana State Athletic Department's goal to continue assisting its student-athletes in all avenues of life. A few items of emphasis have included the addition of a registered dietician, the Bobcat Fuel nutrition station located inside Brick Breeden Fieldhouse, a focus on student-athlete well-being, as well as the Facilities Master Plan that was released in September.
"Everything we do is all about our student-athletes," Director of Athletics Leon Costello said. "You've seen a lot of things that have come out about our department, as well as our efforts to raise funds to close the gap."
Two of Costello's biggest points going forward with the Bobcat supporters at both stops was Montana State's academic success and the Facilities Master Plan; specifically allowing for football to have a new home as well as create more space for student-athletes to have a focus on the academic portion of their collegiate careers.
"Our main job as administrators is to help our coaches help put our student-athletes into position to have success," Costello said. "We want to put the resources into place to help them to develop as a student, as an athlete and as a person. If we can do that, then it's up to the coaches to see their program succeed."
Bobcat men's basketball head coach Brian Fish said he appreciated the strides the athletic department has made during his time at MSU. Coach Fish discussed the experience of playing in Great Falls to open the 2017-18 season. While it may be hard to at times to see the entire state of Montana, Fish said that he wants to get his team in front of as many people around the state as possible.
The 2017 Bobcat football season gave MSU fans their money's worth. With several close contests toward the end of the season, including down-to-the-wire games against Kennesaw State and Northern Arizona, it would have been easy to coast out the end. But, MSU bounced back to end the season with possession of the Great Divide Trophy with a victory over Montana.
"That was back-to-back gut shots for our guys," Choate said of the team's narrow defeats. "Then we have to go back to Bozeman and try to beat Montana who we hadn't beat at home since 2003. But, we responded. Now they know they can play with anybody in the country, period. I think the foundation is set and the culture is set. Now it's about winning. That's where we're headed."
With victories coming in to cap the last two seasons, Bobcat football has been looking ahead to an intriguing 2018 season. Head coach Jeff Choate noted the Bobcats' schedule with some big matchups. MSU opens the year with a Thursday Gold Rush game against the Missouri Valley Football Conference's Western Illinois Fighting Leathernecks, a team that reached the FCS Playoffs a season ago.
It doesn't get much easier the next week when the Bobcats make a trip to Brookings to face South Dakota State, a playoffs semifinalist before bowing out to the previous year's national champion in James Madison. The Big Sky Conference schedule adds quality with Idaho back on the schedule for the first time in years as well. With plenty of position battles going into fall ball, MSU football will be a fun team to keep track of as the season progresses.
The Bobcat Club Road Trip made stops in Lewistown, Cut Bank, Glasgow, Plentywood, Glendive, and Miles City before stopping in Billings for lunch on April 26th.
To see all of the Bobcat Club's upcoming events, visit www.msubobcatclub.com/events.