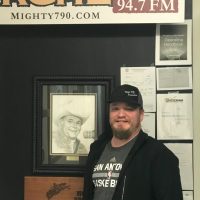 Listen to Dave Austin each weekday from 1-4 pm on KGHL 790AM & 94.7FM!
I was born and raised in northeast Montana and has been in the DJ business since 1997, either working in radio or performing/emceeing at events. I give Taylor Brown credit for getting me started with the love of being behind a microphone. When I was growing up I attended a farm show with my family and Taylor was broadcasting live at the show. As we walked by his booth Taylor asked if I would like to go on the air with him after that I wanted to make a career out of being behind a microphone.
I am the owner of Magic City Productions based here in  Billings. There is so much excitement working with our customers planning their events and helping them make their events more enjoyable and memorable. I am excited to have the opportunity to work at The Mighty 790 KGHL. I have always had a love for classic country music. I look forward to meeting listeners and building relationships within our listening community.
My wife Kristi and I have made Billings their home since 1998, where I finished college for radio/TV broadcasting and we have raised our two kids. My wife is a nurse at Billings Clinic and has been employed there for the past 10 years. Our son is now in Bozeman and we have a daughter that is in her sophomore year in High School here in Billings.